Get Emergency Alerts for LA City & County
LA City

NotifyLA is the City of Los Angeles' official mass notification system used to send voice messages, text messages and email messages to residents and businesses during times of emergencies and disasters. Notifying the public when a disaster strikes might be the one and only safeguard the public can count on to save their lives and protect their property. It's easy to get started. Just fill in your information on THIS WEB PAGE.
LA County

Los Angeles County has implemented an emergency mass notification system, Alert LA County, to contact County residents and businesses via recorded phone messages, text messages or e-mail messages in case of emergencies or critical situations and provide information regarding necessary actions, such as evacuations.
Register your cell phone number, Voice over IP phone number and e-mail address!
LA County Specific Needs Disaster Registry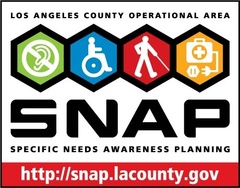 Los Angeles County is currently in the process of transitioning SNAP (Specific Needs Awareness Planning) registrants into the Alert LA County system. Alert LA County will be used by Los Angeles County to notify residents and businesses of emergencies or critical situations and provide information regarding necessary actions, such as evacuations.
To register for Alert LA County, please follow the link below:
If you have additional questions, please contact us at: support@ceooem.lacounty.gov
_______
Frequently Asked Questions:
Why is SNAP being transitioned to Alert LA County?
The original SNAP software platform has become obsolete and is not compatible with modern technology or mobile smartphone platforms. This could potentially lead to delays in providing information to registrants of the system.
What is Alert LA County?
Alert LA County is a mass notification system for all County residents, including people with disabilities and others with access and functional needs. Alert LA County can send mass messages to residents impacted by an emergency or disaster on how to keep themselves and their families safe. The messages can be sent to the entire County or can target specific areas. Alert LA County uses a contemporary software program, leverages mobile smartphone technology, is widely accepted by public safety partners, and has ongoing funding, program support, and promotion within the Los Angeles County Operational Area.
What happens to my current SNAP information?
The transition of the SNAP registrants (current members) into Alert LA County will feature multiple efforts by the County to reach SNAP registrants by mail and email. This will ensure accurate migration and will have the added benefit of refreshing the contact information of the newly transferred Alert LA County registrants.