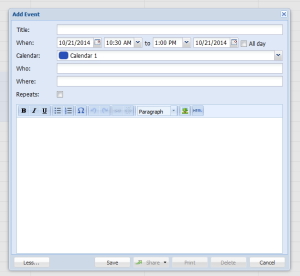 CERT Calendar – Add/Edit CERT Community Meeting
Use this page to add or edit CERT Community Meetings.
Open the calendar.
Click on Add Event (just below Date Range on the left). A window will open. You can enter your information on it, and switch back here for instructions.
Enter your information:
Title: The name of your meeting – for example, Battalion XX CERT Community Meeting
When: Verify the date and start and end times. Do not click on All Day!
Who: Leave blank
Where: Enter the street address, city and zip code for your meeting.
Click on More to open the large box.
In the large box, enter:
The same title you used before
The meeting date
The start and end time
The street address, city and zip code.
Then enter your meeting description.
You can use bold, italic, underline, bullets and images in your description.
Use your return key to break up your text. Don't run it all together.
If you need to link to a site, enter the site's address, select and copy it, and click on the Insert/Edit icon (on the left side of the box to the left of Paragraph).
The Insert/Edit Link window will open. Paste the site address you copied into the Link URL box and set the Target as Open Link in a New Window, and click on Update.
Click on Save to save your meeting.
After you save your event, check the calendar to make sure all the information is there.